Egil went on southwards to Hordaland, taking for this journey a rowing vessel,
and thereon thirty men.
They came on a day to Askr on Fenhring island.
Egil went up to the house with twenty men, while ten guarded the ship.
Atli the Short was there with some men.
Egil bade him be called out and told that Egil Skallagrimsson had an errand with him.
Atli took his weapons, as did all the fighting men that were there, and then they went out.
Egil spoke:
'I am told, Atli, that you hold in keeping that property which of right belongs
to me and my wife Asgerdr.
You will belike have heard it talked of ere now how I claimed
the inheritance of Bjorn Yeoman, which Bergonund your brother kept from me.
I am now come to look after that property, lands and chattels,
and to beg you to give it up and pay it into my hands.'
Said Atli:
'Long have we heard, Egil, that you are a most unjust man, but now I shall come to prove it,
if you mean to claim at my hands this property, which king Eric adjudged
to Bergonund my brother. King Eric had then power to bid and ban in this land.
I was thinking now, Egil, that you would be come here for this end,
to offer me a fine for my brothers whose lives you took,
and that you would pay atonement for the pillage committed by you here at Askr.
I would make answer to this proposal, if you should plead this errand;
but here to this other I can make none.'
'I shall then,' said Egil, 'offer you, as I offered Onund, that Gula-thing laws decide our cause. Your brothers I declare to have fallen without claim for fine and through their
own wrong deeds, because they had first plundered me of law and land-right,
and taken my property by force of arms.
I have the king's leave herein to try the law with you in this cause.
I summon you to the Gula-thing, there to have lawful decision on this matter.'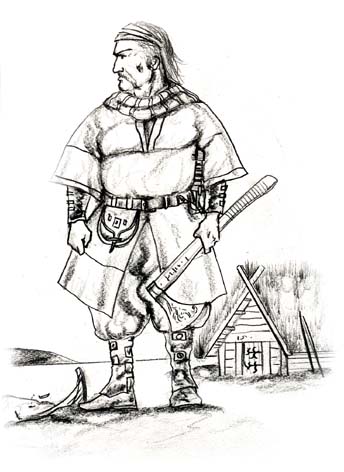 (Atli the Short)